The Poconos
Dorney Park & Wildwater Kingdom Allentown

Looking forward to living in the mountains when you complete your urology residency? Or tired of fighting over patients in your metro practice? But not ready to give up your metro amenities? Lehigh Valley Pocono could be your answer. Here you can live in the Lehigh Valley consisting of Bethlehem, Allentown and Easton and work in Pocono.
Reverse commute from Easton PA to the hospital in Pocono in just half an hour. Ski after work before heading home. And many of the docs live an hour from the hospital in Bethlehem, a vibrant city rich in history and known for its neighborly feel. Located just 60 miles from Philadelphia and 70 miles from NYC, life just doesn't get much better!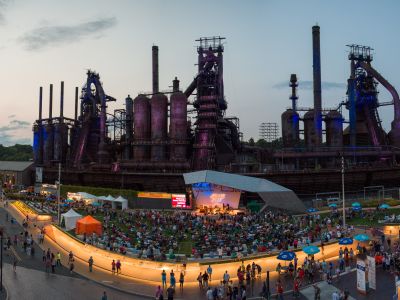 SteelStacks Bethlehem
You would join two urologists in this employed position that offers access to the newest robot, interventional radiologists, hospitalists, and midlevels taking first call in a level 4 trauma hospital with 250 beds. You get access to the newest robot, and you can build out your office space just the way you want it!
Starting base salary is $575,000 plus a starting bonus of $50,000 – plenty to buy that new house – not to mention new skis! With low taxation and a low cost of living your money will go a long way here in the heart of the best the northeast has to offer. The hospital even has a designated person to help you walk through the process of getting your student loans forgiven. And if you sign early the hospital will provide a monthly stipend of $1500 to make your final year a bit cheerier.
With easy to reach productivity bonuses, just one hospital and one clinic to cover, your quality of life will be oh so sweet. Med students and primary care residents rotate through if you want to teach and you can participate in clinical trials.
If this sounds like maybe something you want to explore, contact Michael at 512-538-4351 and send your CV to michael@urologyrecruiting.com. There is only one job open here, so call before it is gone!
1012