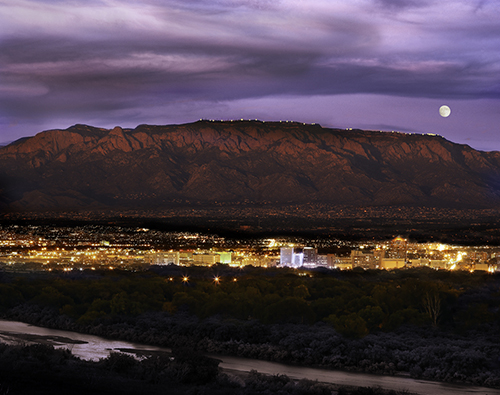 Myth: It's always sunny in New Mexico!
Fact: Nights are dark here. And then yes, there is much sun! In Albuquerque, you can expect 300 sunny days each year.
On those other 65 days, you might witness something unusual—maybe a bit of rain or some snow—falling from the sky. But whereas you might despise this weather had you settled for a job somewhere with a cold or wet climate, here you will be enchanted by its novelty.
Contrast is what makes this the Land of Enchantment. A drive across the state will take you from white deserts to snow-capped mountains. One day in Albuquerque will awe you with an ever-changing color palette—from pinks and oranges to purples and blues—as the sun spills its light across the Sandia Mountains in its journey across the sky.
New Mexico's largest private employer, Presbyterian Healthcare Services, is ready to entice another physician with its enchanting work environment and benefits. Are you a urologist with solid general urology skills, or a passion for female urology? Then sign on at Presbyterian for $20K and begin earning a two-year guaranteed salary of $400K, which is even more impressive when you take into account Albuquerque's low cost of living. You'll be working with a robot, and ER call is 1:6. You'll have 5 talented and welcoming partners, and strong APP support from 4 providers to work your magic.
If you yearn to live in an easygoing city, and if you love to eat and dance in the spirit of the cultural Southwest, then you have found your home. A healthy lifestyle will be hard to avoid. The Sandia foothills beckon with their system of hiking, mountain biking, and equestrian trails. Your 35 days of paid time off and the weather gives you no excuse to stay inside, and since commutes here are well below the national average, you'll have more time to retreat into nature at the end of your work day.
Or perhaps relax with a beverage. In its recommendation of Albuquerque as a top beercation destination, Craft Beer and Brewing magazine credits the city with "one of the winningest collections of IPAs in the world and a rapidly growing roster of beer festivals."
Shopping is an option too. Sundays are fun at the Rail Yards Market, where you'll find produce, arts and crafts, food, and music springing from the remains of a renovated and repurposed railroad repair facility. The tiny adobes of Old Town, established in 1706, house a charming collection of artisan shops. Of course, the national retailers have not overlooked Albuquerque, and you can enjoy both them and the sunshine at the outdoor mall, ABQ Uptown.
Don't let the picturesque Sandias distract you from doing what you need to do for a fulfilling job, short commute, low cost of living, and great beer. Let Kara Savvas enchant you with further details of this urology position. Call her today at 512-422-2788, and send your CV to kara@urologyrecruiting.com.